What is APEL.C
APEL for Credit Award [APEL.C] is the award of credits for prior experiential learning towards a course in an accredited programme of a higher education provider (HEP).
Prior experiential learning is learning based on experience. It includes all learning which you have done up to this point which has not already been formally assessed. These can be:
life and work experiences (paid and voluntary)
prior learning gained through community-based learning
workplace learning and training
continuing professional development
independent learning
Join us at MMU now and get your prior experiential learning recognised for credit transfer through APEL.C! The APEL.C assessment will determine the extent to which you have achieved the desired course learning outcomes for award of credits within a programme of study. Credit transfer up to 30% of total graduating credits of a programme of study!
APEL.C:
| | |
| --- | --- |
| | recognizes non formal and informal learning |
| | reduces repetitive learning |
| | reduces cost of study |
| | reduces the time to complete a study programmes |
| | encourages admission of adult learners to higher education programmes |
| | allows up to 30% credit transfer from total graduating credits |
Who can apply APEL.C?
Registered students
Local and International students
Conventional or APEL.A route mode of entry
All courses including courses from PG programmes that are 100% coursework or mixed-mode
All disciplines and MQF level (from Level 3 – Certificate to Level 8-Doctoral Degree)
No minimum age requirement
For all courses except for final year project, thesis and dissertation
APEL.C Application Process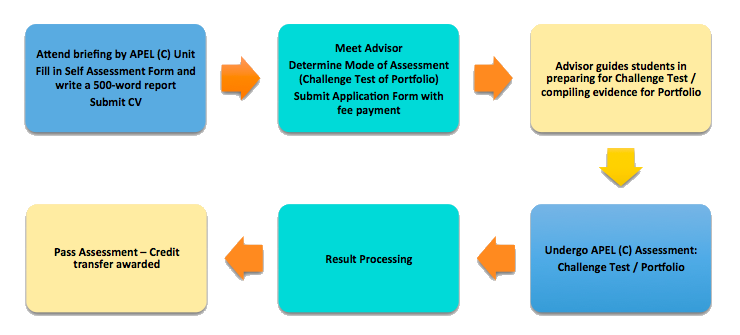 Criteria for Award of Credits
Students must demonstrate an achievement of at least 50% of each Course Learning Outcome to satisfy the requirement of credit awards
The credit awarded is granted on the basis of the knowledge and skills acquired through informal and non-formal learning and not solely on the basis of claiming the experience itself. It is the learning and not the experience of the students which is being evaluated.
The credits awarded through APEL.C can be transferred automatically to another programme within MMU if the course for which credits have been awarded through APEL.C has the same learning outcomes.
The credits awarded must be equivalent to the credit value of the course applied for APEL.C. Award of partial credits will not be allowed.
Credits awarded for a course are only applicable to the specific course applied.
Credits are not automatically applicable to prerequisites (if any) of the specific course.
Subjects Available for APEL.C Application
Student Testimonials
APEL.C at MMU has enabled me to fast track my studies by trading my work experience through a challenge test. I have managed to save time as well as money since I was able to credit transfer and take less subjects.

 

Mr. Neoh Hoo Thye
Masters of Computer Science in Software Engineering and Software Architecture
Faculty of Computing and Informatics,
Multimedia University

I never thought that the long years of experience that I have had holding managerial and leadership positions in numerous companies have allowed me to gain credit through APEL.C at MMU. The life and work experience that I have gathered is recognised, assessed with the same rigour as any other learning would be at higher institution level, and awarded credit. I can now graduate sooner than I expected.

Mr. Sharbani Harun
Doctorate in Business Administration
Faculty of Management, Multimedia University
How do I find out more about APEL.C?
Learn more about APEL.C by contacting the Lifelong Education Department (Centre for LEARN) at
03-8312 5509/5257
You will be assigned an APEL.C Advisor who will support you through the APEL.C process by:
introducing you to the APEL Guidelines;
building your confidence as a learner through identifying your strengths and skills; and
advising you on how to prepare for your assessment.