Our mission is to inspire inquiring minds through innovative learning and research
INNOVATIVE TEACHING
Use of innovative teaching approaches and blended-learning strategies enhance student learning and experience.
PROFESSIONAL RECOGNITION
Recognized as a myDigitalMakeHub by MDeC and is the only MDeC-recognized maker hub in Melaka.
INNOVATIVE LEARNING TOOLS
The faculty is committed to 4IR through the delivery of our programmes and student activities. The faculty is also equipped with 38 laboratories to support teaching, research and idea explorations and the latest 5G mobile communication facility supported by ZTE.
INDUSTRIAL-DRIVEN RESEARCH CENTRES
State-of-the-art training centre features equipment and network environment that will push forward the talent cultivation in Malaysia, hence, will be creating agility development in innovating the society's needs.
WELL BALANCED STRUCTURE
At FET, the faculty boasts a well-balanced learning structure that provides strong hands-on experience as well as good understanding of the fundamentals of the field and industry. The team of lecturers work closely with students to develop confidence and know-how in the respective industries.
AWARD & RECOGNITION
Over the years, the faculty staff and students have constantly won numerous awards in various fields related to the programmes and in the industry. This is the testament to the faculty's commitment and quality of work.
CALLING FOR NEW INTAKE
Find out all the information you need to enroll for any of our courses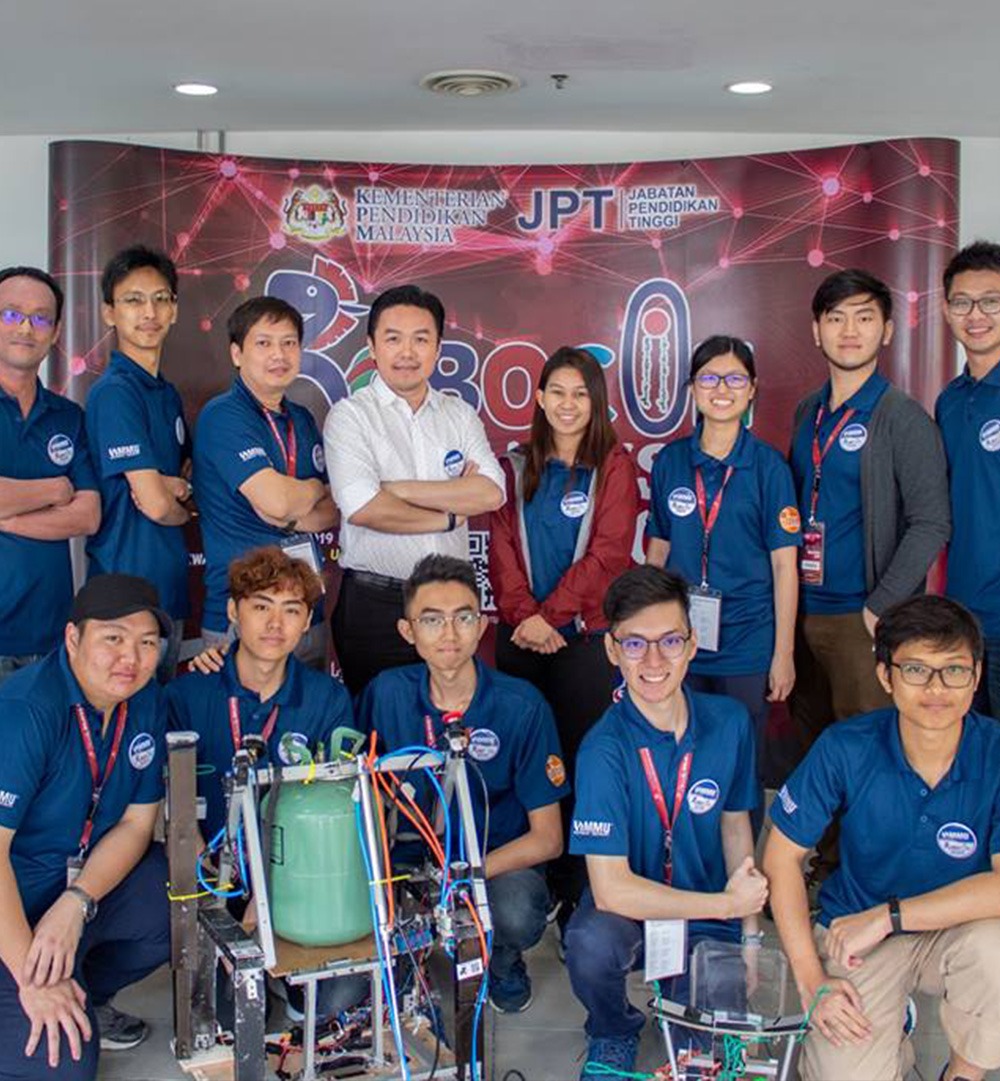 WHAT'S NEW
FROM OUR ALUMNI
FET Alumni as the Technical Advisor for MMU Melaka Robocon Team
Congratulations to MMU Melaka team from FET for winning consolation prize after 3-days of grueling matches in Robocon Malaysia 2019. The team members and their advisors had poured in months of strenuous work to build two robots that gave consistent performance.
Heartfelt thanks to the MMU top management for their support and we were honoured to have our President and the Dean for gracing the last day of the contest and witnessing our proud moment on stage.
Special thanks to our alumni, Mr. William Hii How Hsin (Class of 2002) and Mr. Lee Chee Cheong (Class of 2008) for volunteering their time and effort in guiding our team, and also to our alumni Mr. Raymond Lock Soon Hong (Class of 2008) that is currently in IFM Asia Regional Office for sponsorships.