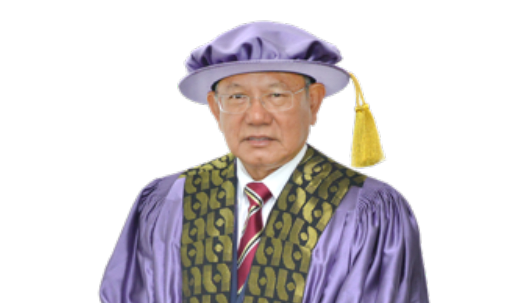 PRO-CHANCELLOR
YBhg. TAN SRI DATO' SRI DR. HALIM SHAFIE
---
Tan Sri Dato' Sri Dr. Halim Shafie's was born on 1st March 1949 in Kuala Ketil, Kedah. Upon completing his primary school in Kuala Ketil, he continued his secondary education at the Malay College, Kuala Kangsar. After that, he then pursued a Bachelor of Economics degree at the University of Malaya and graduated in 1972. Eight years later, he earned a Master's Degree in Economic Development from the University of Pittsburgh, U.S.A. and then a Ph.D. on Information Transfer from Syracuse University, U.S.A in 1988.
Tan Sri Dr. Halim began his career in the civil service at the Ministry of Education from 1972 to 1975, followed by appointments at National Institute of Public Administration (INTAN); Malaysian Administrative Modernization and Management Planning Unit (MAMPU), and in early 2000, he was appointed as the Secretary General, Ministry of Energy, Water and Communications.
Upon retirement from the civil service, he held various positions in numerous organisations, including Chairman of the Malaysian Communications and Multimedia Commission (MCMC); Chairman of Telekom Malaysia Berhad (TM); Chairman of Multimedia University (MMU); and Chairman of GITN Sdn. Bhd.
Throughout his career in both public and private sector, Tan Sri Dr. Halim involved in many knowledge based programmes and among his contributions are the setting up of GITN, a private data network for the government; formulating regulations under the Communication and Multimedia Act (2000); and implementation of the High Speed Broadband through a public private partnership with TM.
During his previous tenure as Chairman of MMU, Tan Sri Dr. Halim pushed for greater research and innovation alignment between MMU and TM R&D in order to create a synergy-conducive environment. He also had a special interest in the Digital Home set up at MMU as a research centre to showcase the use of ICT in homes.
In January 2015, Tan Sri Dr. Halim has been re-appointed as the Chairman of MCMC as the entrusted champion of good governance, in line with the government's efforts for all ministries and agencies in the national digital initiatives.
Beyond he has fulfilled the qualities and requirements of this esteemed position, Tan Sri Dr. Halim has also been prolifically acknowledged for having achieved success in countless leadership experience. In conjunction with the Yang di-Pertuan Agong Sultan Muhammad V's birthday on 9 September 2017, he has been awarded the darjah kebesaran Panglima Setia Mahkota.