Sponsorship for the MICPA Programme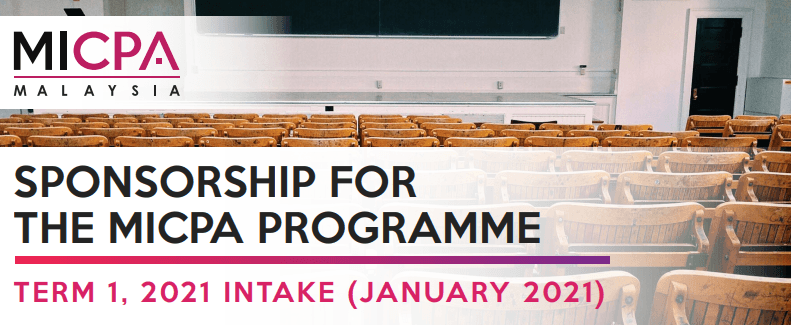 SPONSORSHIP FOR THE MICPA PROGRAMME
Greetings from MICPA!
We are pleased to inform you there's another sponsorships opportunity to pursue the MICPA Programme on a full-time basis upon completion of a Degree in Accounting. If you have recently graduated or are currently in your final semester of your Degree in Accounting, this is for you!
Join us virtually to find out about the MICPA Programme & sponsorship details for the upcoming intake for the MICPA Programme in Term 1, 2021 (January). Come & find out more & get all your questions answered!
DATE: November 6, 2020 (Friday)
TIME: 5.00 p.m. MYT
VENUE: via Zoom Application (Link will be provided to those who have RSVP'd a day before the session.)
RSVP NOW through the following button:
Who should attend?
Malaysian Bumiputera with monthly household income less than RM4850 (B40)
– 25 years old & below
– Completed or will be completing a Degree in Accounting accredited by MICPA or CA ANZ by November 2020 with a:
i) Minimum of CGPA 3.0 (Local Universities)
ii) Minimum of CGPA 5 over 7 or CGPA 4 over 9 (Australia / New Zealand)
Get more info about the sponsorships opportunity through the following button:
View Brochure
Submit your application through the following button:
Apply Now
For Enquiries
===========
Marketing Department (event-related / MICPA Programme queries)
Eileen eileen@micpa.com.my
Shanta shanta@micpa.com.my
Hasiib hasiib@micpa.com.my
Soraya soraya@micpa.com.my
Education Department (sponsorship-related queries)
Ashley ashleychan@micpa.com.my
Sarah maisarah@micpa.com.my