Diploma in Management
(N/345/4/1118) 05/24 (MQA/PSA12185)
This programme is designed to produce quality graduates who are confident, business savvy, technologically enabled, and equipped with the necessary soft skills and good ethical values needed to excel in the fast-paced digital economy and beyond. In line with global trends towards a freelance economy and movements supporting innovation and business start-ups, this programme offers a special focus on developing students' skills and mindset for entrepreneurship.
After completion of this diploma programme, students who choose to further their studies can opt to continue into a Bachelor's degree programme at either the Faculty of Management (MMU Cyberjaya campus) or Faculty of Business (MMU Melaka campus). Credit transfer from Diploma to Degree is awarded to eligible programmes.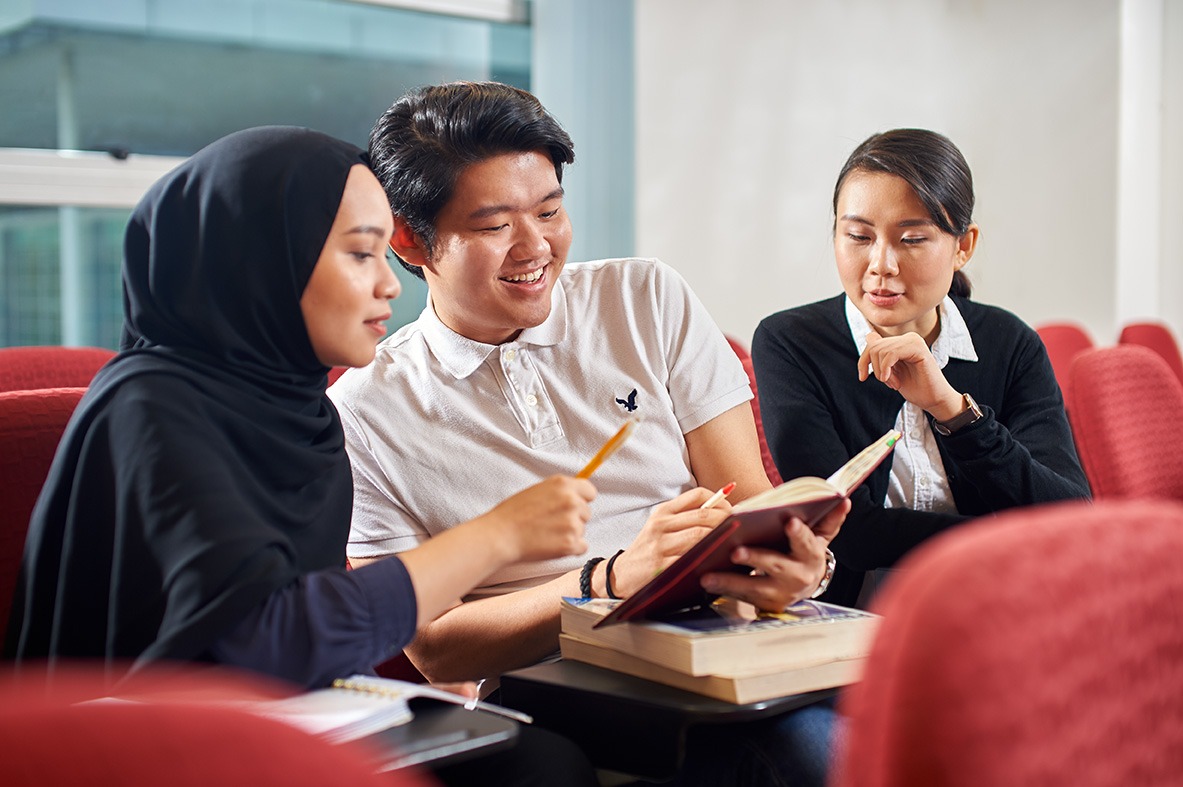 ENTRY REQUIREMENTS
English Language Requirement for International Students
International students who wish to enrol into the Diploma in Management programme are required to possess a minimum score of 5.0 in IELTS or its equivalent.
PROGRAMME STRUCTURE
Computer Technology and Applications
English
Fundamentals of Economics
Fundamentals of Entrepreneurship
Fundamentals of Finance
Business Mathematics
Business Statistics
Organisational Behaviour
Principles of Financial Accounting
Principles of Managerial Accounting
Principles of Management
Principles of Marketing
Psychology
Character Building
Character Development
U1
U2 or U3
Business Ethics
Business Law
Digital Literacy in Management
Human Resource Management
International Business
Leadership and Communication
Managing Small Business
Operations Management
Product Innovation and Management
Project Management
U4
Practical Training
MPU1 (U1):
Philosophy and Current Issues (Falsafah dan Isu Semasa) – Local students only
Bahasa Melayu Komunikasi 1 – International students only
MPU2 (U2) or MPU3 (U3):
Bahasa Kebangsaan A* / Basic Academic Writing (MPU2206) / Family & Society in Malaysia (MPU2332)
MPU4 (U4):
MPU2409 Personal Social Responsibility
*Note: Bahasa Kebangsaan A is compulsory for any local student who did not obtain credit in Bahasa Malaysia at SPM level.
PROGRAMME OBJECTIVES AND OUTCOMES
This programme aims to produce graduates with the following quality after several years of graduation:
Graduates who are able to use fundamental business management knowledge, cognitive and practical skills to solve basic business management problems.
Graduates with interpersonal, digital and numeracy skills, to carry out their assigned responsibilities effectively.
Graduates who demonstrate good personal management, entrepreneurial mindset, and ethical behavior in their profession.
Upon graduation, the graduates are expected to achieve or attain the following outcomes:
Demonstrate fundamental knowledge and competency in business management.
Exhibit critical thinking and problem-solving skills to solve basic management problems in organizations.
Utilise practical management skills and techniques within business organization.
Demonstrate effective written and oral communication and collaborative skills.
Demonstrate relevant digital skills in business management.
Develop analytical mind to analyse numerical and graphical data in management decision making.
Demonstrate responsibility for business operations for self and others with minimal guidance.
Demonstrate broad entrepreneurship skills and self-improvement for academic and career development.
Adhere to ethical values and professionalism in solving various business management issues.
Upon completion of this diploma programme, students can enrol into any Bachelor Degree programme at MMU provided that he or she fulfils the Bachelor's Degree entry requirement. Credit transfer from Diploma to Degree is awarded to eligible programmes.
A DiM graduate may proceed to the 2nd year of Bachelor of Business Management (Hons) if he or she fulfils the credit transfer requirement.
INDUSTRIAL ADVISOR
Puan Saliza Abdullah
CEO of BG Capital Holdings
Appointment duration: Trimester 3, 2020/2021 until Trimester 2, 2023/2024