Diploma in Finance
(N/345/4/1118) 05/24 (MQA/PSA12185)
This programme is designed to empower students with digital and analytical skills essential to the rapidly disrupted Banking and Finance industry. Students will be equipped with soft and management skills in order to meet industry needs. The programme also prepares the students with independent and innovative thinking skills through its curriculum and industry exposure related to finance, investment and banking.
After completing the diploma programme, various career options are available such as Banker, Merchant Banker, Trader, Finance Officer, Personal Financial Advisor, Credit Officer, Underwriter, Portfolio Investment officer, Investment and Wealth officer.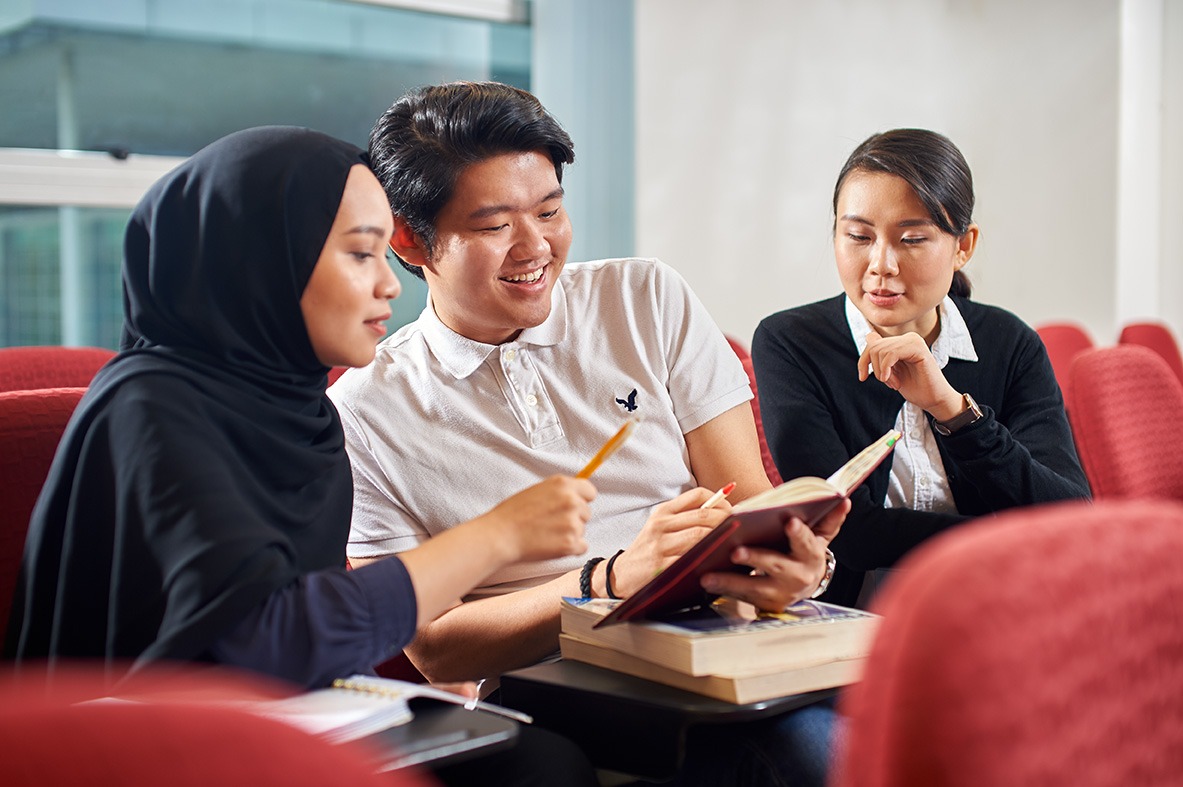 ENTRY REQUIREMENTS
Note : 
Candidates without a Credit in Mathematics and a Pass in English at SPM Level may be admitted if the qualification contains subjects in Mathematics and English and the achievement is higher or equivalent to the requirement of the subject at SPM Level.
English Language Requirement for International Students
International students who wish to enrol into the Diploma in Finance programme are required to possess a minimum score of 5.0 in IELTS or its equivalent.
PROGRAMME STRUCTURE
Computer Technology and Applications
English
Fundamentals of Economics
Fundamentals of Entrepreneurship
Fundamentals of Finance
Business Mathematics
Business Statistics
Organisational Behaviour
Principles of Financial Accounting
Principles of Managerial Accounting
Principles of Management
Principles of Marketing
Elective
Character Building
Character Development
U1
U2 or 3
Business Communication in the Digital Age
Business Law
Digital Literacy in Management
Commercial Bank Management
Foundations of Financial Markets and Institutions
Fundamental of Financial Statement Analysis
Fundamentals of Investments
Introduction to Fintech
Personal Finance
Practical Financial Analysis
U4
Practical Training
Require 1 course only:
Critical Thinking
Ethics & Governance
MPU1 (U1):
Philosophy and Current Issues (Falsafah dan Isu Semasa) – Local students only
Bahasa Melayu Komunikasi 1 – International students only
MPU2 (U2) or MPU3 (U3):
Bahasa Kebangsaan A* / Basic Academic Writing (MPU2206) / Family & Society in Malaysia (MPU2332)
MPU4 (U4):
MPU2409 Personal Social Responsibility
*Note: Bahasa Kebangsaan A is compulsory for any local student who did not obtain credit in Bahasa Malaysia at SPM level.
Note: The above programme structure serves as a general guide.
PROGRAMME OBJECTIVES AND OUTCOMES
This programme aims to produce graduates with the following quality after several years of graduation:
Finance officers who apply fundamental financial and nonfinancial concepts, theories, and knowledge in finding solutions to basic finance problems.
Finance officers who display good practical and communication skills in their interactions within the workplace.
Finance officers who effectively display basic digital and numerical skills in carrying out their assigned responsibilities in the workplace.
Finance officers who demonstrate good personal management and entrepreneurial skills, as well as ethical behaviour in the workplace.
Upon graduation, the graduates are expected to achieve or attain the following outcomes:
Explain the relevant finance concepts and theories.
Apply relevant financial and non-financial knowledge for the purpose of problem solving and decision making.
Perform technical skills based on financial knowledge in providing basic finance-related solutions.
Respond with appropriate interpersonal skills when interacting with diverse stakeholders.
Communicate financial and non-financial information clearly to stakeholders.
Display with confidence digital literacy utilizing relevant software and applications.
Utilize quantitative skills to analyze and describe financial information.
Assume responsibility and leadership in relevant financial contexts or situation.
Commit to principles of lifelong learning together with positive attitude in carrying out tasks.
Demonstrate basic entrepreneurial skills in performing relevant assigned tasks.
Comply to ethical and professional standards when dealing with finance-related issues.
Upon completion of this diploma programme, students can enrol into any Bachelor Degree programme at MMU provided that he or she fulfils the Bachelor's Degree entry requirement. Credit transfer from Diploma to Degree is awarded to eligible programmes, particularly, those offered by the Faculty of Management such as Bachelor of Finance (Hons) and Bachelor of Financial Engineering (Hons).