[BREAKING NEWS ! MMU CAREER FAIR '22 NOW OPEN FOR REGISTRATION!]
"𝑰𝒕'𝒔 𝒂 𝒃𝒆𝒂𝒖𝒕𝒊𝒇𝒖𝒍 𝒕𝒉𝒊𝒏𝒈 𝒘𝒉𝒆𝒏 𝒄𝒂𝒓𝒆𝒆𝒓 𝒂𝒏𝒅 𝒂 𝒑𝒂𝒔𝒔𝒊𝒐𝒏 𝒄𝒐𝒎𝒆 𝒕𝒐𝒈𝒆𝒕𝒉𝒆𝒓".
.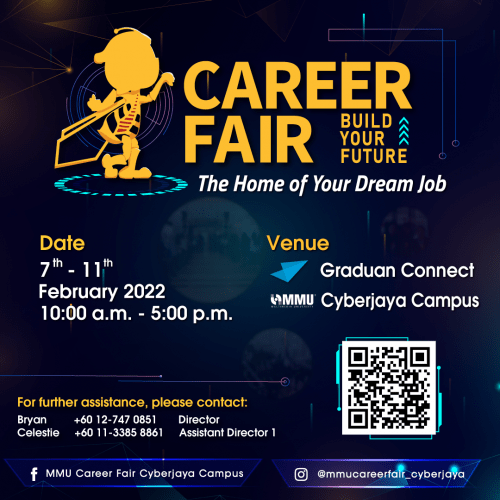 Career Fair '22 is back, and with over 30 companies participating this year, the slogan "𝐓𝐡𝐞 𝐇𝐨𝐦𝐞 𝐎𝐟 𝐘𝐨𝐮𝐫 𝐃𝐫𝐞𝐚𝐦 𝐉𝐨𝐛" will open many doors of opportunity to kickstart your career. We also have engaging webinar sessions with your favorite companies, forum session with esteemed guests, resume clinics, attractive lucky draws and opportunities to be interviewed! . All this at the tip of your fingers! What are you waiting for? 𝗥𝗲𝗴𝗶𝘀𝘁𝗲𝗿 𝗼𝗻 𝗚𝗿𝗮𝗱𝘂𝗮𝗻 𝗖𝗼𝗻𝗻𝗲𝗰𝘁.