PTPTN Assistance
*Fee stated as per year 2022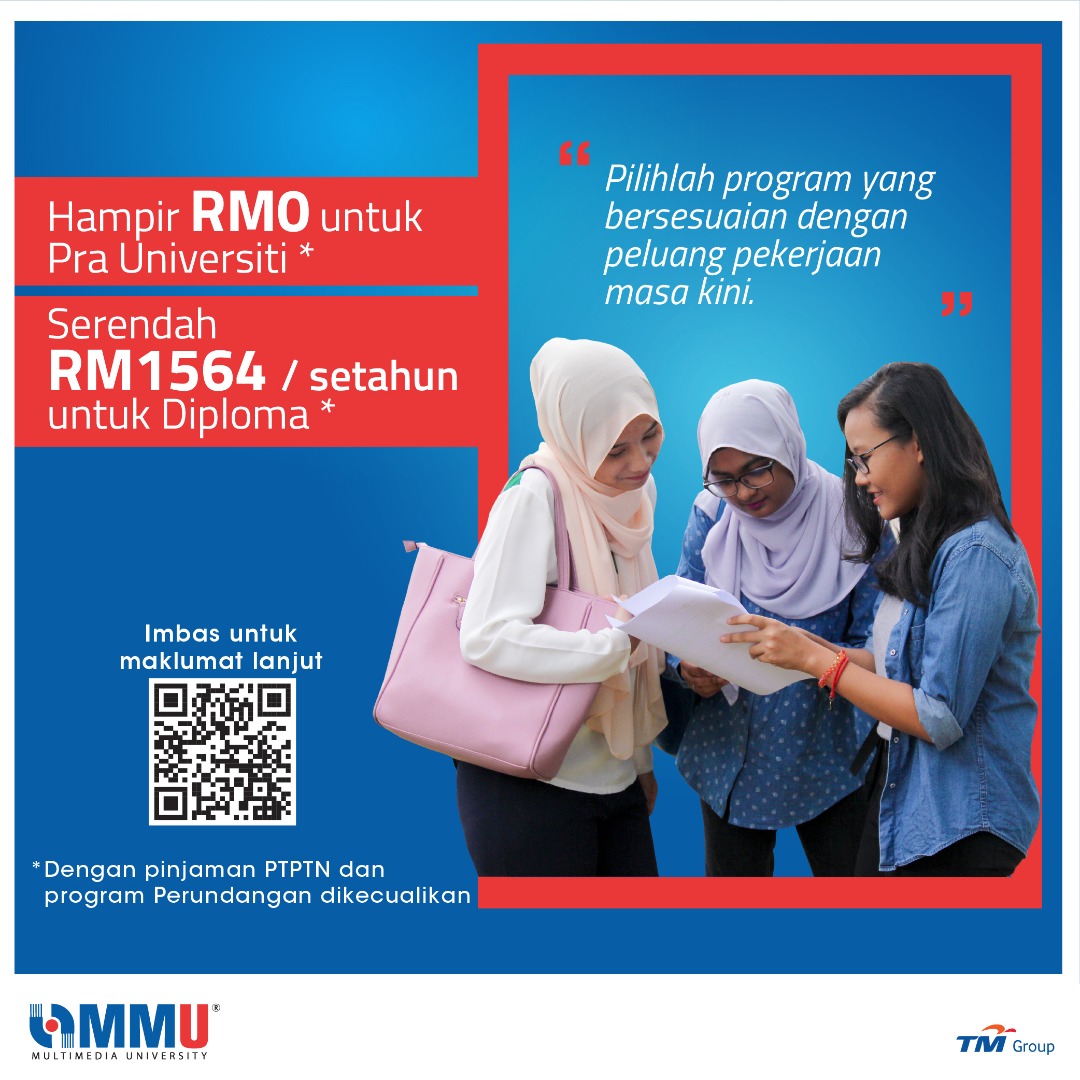 Be part of an institute with diversified culture and ethnicity
Meet us virtually for a one to one counseling via https://www.mmu.edu.my/book-an-appointment/ or email us at connect@mmu.edu.my
Important note:
The information below shows the approximate tuition fee per year with PTPTN assistance and only applicable for Malaysians.
This information serves only as guidelines and final approval of PTPTN is at the discretion of PTPTN.
Tuition fee per year for Foundation Programmes are only for year 2021 intakes.
For PTPTN brochure, please click here.
To obtain further information on other fees, for all undergraduate programmes, please click here.

Be part of an institute with diversified culture and ethnicity.
IMPORTANT NOTE:
1) THE INFORMATION BELOW SHOWS THE APPROXIMATE TUITION FEE PER YEAR WITH PTPTN ASSISTANCE  AND ONLY APPLICABLE FOR MALAYSIANS.
2) THIS INFORMATION SERVES ONLY AS A GUIDELINE AND FINAL APPROVAL OF PTPTN IS AT THE DISCRETION OF PTPTN.
3) THE INFORMATION IS ONLY FOR DEGREE PROGRAMMES.
4) PTPTN LOAN IS ALSO AVAILABLE FOR FOUNDATION AND DIPLOMA PROGRAMS. FOR PTPTN BROCHURE, PLEASE CLICK TO : https://www.mmu.edu.my/wp-content/uploads/2023/03/2023-PTPTN-NEW.pdf
5) TO OBTAIN FURTHER INFORMATION ON OTHER FEES, FOR ALL UNDERGRADUATE PROGRAMMES, PLEASE CLICK TO : https://www.mmu.edu.my/wp-content/uploads/2023/05/UG_Fee-Structure_2023_update220523-1.pdf
Programme
PTPTN ALLOCATION PER YEAR
ENGINEERING
TUITION FEE PER YEAR (RM)
BSHR RECIPIENT (RM)
PARENTS COMBINED MONTHLY INCOME (LESS THAN RM8K)
PARENTS COMBINED MONTHLY INCOME (MORE THAN RM8K)
 BALANCE TUITION FEE TO PAY PER YEAR (RM)
FACULTY OF ENGINEERING  (Cyberjaya)
·          Bachelor of Engineering (Hons) Electronics
18,250.00
14,030.00
10,520.00
7,010.00
 4220.00 to 11,200.00
·          Bachelor of Engineering (Hons) Electrical
·          Bachelor of Engineering (Hons) Electronics majoring in Computer
.          Bachelor of Engineering (Hons) Electronics majoring in Telecommunications
·          Bachelor of Engineering (Hons) Electronics majoring in Nanotechnology
           Bachelor of Science (Hons.) Intelligent Robotics
20,000.00
 5970.00 to 12,990.00
FACULTY OF ENGINEERING & TECHNOLOGY (Melaka)
·          Bachelor of Engineering (Hons) Electronics majoring in Telecommunications
18,250.00
14,030.00
10,520.00
7,010.00
 4220.00 to 11,200.00
·          Bachelor of Engineering (Hons) Mechanical
·          Bachelor of Engineering (Hons) Electronics majoring in Robotics & Automation
INFORMATION TECHNOLOGY
FACULTY OF COMPUTING & INFORMATICS (Cyberjaya)
·         Bachelor of Information Technology (Hons) Information System
20,000.00
14,030.00
10,520.00
7,010.00
 5970.00 to 12,990.00
·         Bachelor Of Computer Science (Hons)
FACULTY OF INFORMATION SCIENCE & TECHNOLOGY (Melaka)
·         Bachelor of Computer Science (Hons) Artificial Intelligence
20,000.00
14,030.00
10,520.00
7,010.00
 5970.00 to 12,990.00
·         Bachelor of Information Technology (Hons) Data Communications and Networking
·         Bachelor of Information Technology (Hons) Business Intelligence and Analytics
·         Bachelor of Information Technology (Hons) Security Technology
·         Bachelor of Science (Hons) Bioinformatics
CREATIVE MULTIMEDIA
FACULTY OF CREATIVE MULTIMEDIA (Cyberjaya)
·         Bachelor of Multimedia (Hons) Interface Design
20,000.00
13,600.00
10,200.00
6,800.00
 6400.00 to 13,200.00
·         Bachelor of Multimedia (Hons) Virtual Reality
·         Bachelor of Multimedia (Hons) Media Arts
·         Bachelor of Multimedia (Hons) Animation
·         Bachelor of Multimedia (Hons) Advertising Design
          Bachelor of Multimedia (Hons) Visual Effects
FACULTY OF CINEMATIC ARTS (Cyberjaya)
·         Bachelor of Cinematic Arts (Hons)
20,000.00
13,600.00
10,200.00
6,800.00
 6400.00 to 13,200.00
MANAGEMENT & BUSINESS
FACULTY OF MANAGEMENT (Cyberjaya)
·          Bachelor of Accounting (Hons)
17,500.00
13,600.00
10,200.00
6,800.00
 3900.00 to 10,700.00
·          Bachelor of Financial Engineering (Hons)
16,046.00
 2446.00 to 9246.00
·          Bachelor of Finance (Hons)
17,333.00
 3733.00 to 10,533.00
·          Bachelor of  Marketing (Hons)
·          Bachelor of Business Management (Hons)
.          Bachelor of Analytical Economics (Hons)
.          Bachelor of Digital Enterprise Management (Hons)
FACULTY OF BUSINESS (Melaka)
·          Bachelor of Accounting (Hons)
17,500.00
13,600.00
10,200.00
6,800.00
 3900.00 to 10,700.00
·          Bachelor of Business Administration (Hons) Human Resource Management
17,333.00
 3733.00 to 10,533.00
·          Bachelor of Business Administration (Hons) Banking and Finance
·          Bachelor of Business Administration (Hons) Marketing Management
·          Bachelor of Business Administration (Hons) International Business
·          Bachelor of Business and Knowledge Management (Hons)
ENGLISH & COMMUNICATION
FACULTY OF APPLIED COMMUNICATION (Cyberjaya)
·          Bachelor of Communication (Strategic Communication) (Hons) (Cyberjaya)
16,667.00
13,600.00
10,200.00
6,800.00
 3067.00 to 9867.00
LAW
FACULTY OF LAW (Melaka)  – ONLY IN JULY INTAKE
·          Bachelor of Law (Hons)
18,000.00
13,600.00
10,200.00
6,800.00
 4400.00 to 11,200.00
Programme
Tuition Fee Per Year (RM)
PTPTN Allocation Per Year for BSHR Recipient (RM)
PTPTN Allocation Per Year for Parents Combined Monthly Income
(Less Than 8K)
PTPTN Allocation Per Year for Parents Combined Monthly Income
(More Than 8K)
Balance Tuition Fee To Pay Per Year (RM)
FACULTY OF ENGINEERING (Cyberjaya)
Foundation of Engineering
6,000.00
6,800.00
5,100.00
3,400.00
ZERO to 2,600.00
Bachelor of Engineering (Hons) Electronics
18,250.00
14,030.00
10,520.00
7,010.00
4220.00 to 11,200.00
Bachelor of Engineering (Hons) Electrical
18,250.00
14,030.00
10,520.00
7,010.00
4220.00 to 11,200.00
Bachelor of Engineering (Hons) Electronics majoring in Computer
18,250.00
14,030.00
10,520.00
7,010.00
4220.00 to 11,200.00
Bachelor of Engineering (Hons) Electronics majoring in Telecommunications
18,250.00
14,030.00
10,520.00
7,010.00
4220.00 to 11,200.00
Bachelor of Engineering (Hons) Electronics majoring in Nanotechnology
18,250.00
14,030.00
10,520.00
7,010.00
4220.00 to 11,200.00
Bachelor of Science (Hons.) Intelligent Robotics
20,000.00
14,030.00
10,520.00
7,010.00
5970.00 to 12,990.00

FACULTY OF ENGINEERING & TECHNOLOGY (Melaka)
Foundation in Engineering
6,000
6,800.00
5,100.00
3,400.00
ZERO to 2,600.00
Diploma in Electronics Engineering
8,364.00
6,800.00
5,100.00
3,400.00
1,564.00 TO 4,964.00
Diploma in Mechanical Engineering
8,364.00
6,800.00
5,100.00
3,400.00
1,564.00 TO 4,964.00
Bachelor of Engineering (Hons) Electronics majoring in Telecommunications
18,250.00
14,030.00
10,520.00
7,010.00
4220.00 to 11,200.00
Bachelor of Engineering (Hons) Mechanical
18,250.00
14,030.00
10,520.00
7,010.00
4220.00 to 11,200.00
Bachelor of Engineering (Hons) Electronics majoring in Robotics & Automation
18,250.00
14,030.00
10,520.00
7,010.00
4220.00 to 11,200.00
FACULTY OF COMPUTING & INFORMATICS (Cyberjaya)
Foundation in Information Technology
6,000.00
6,800.00
5,100.00
3,400.00
Zero to 2,600.00
Diploma in Information Technology
11,500.00
6,800.00
5,100.00
3,400.00
4,700.00 to 8,100.00
Bachelor of Information Technology (Hons) Information System
20,000.00
14,030.00
10,520.00
7,010.00
5970.00 to 12,990.00
Bachelor Of Computer Science (Hons)
20,000.00
14,030.00
10,520.00
7,010.00
5970.00 to 12,990.00
FACULTY OF INFORMATION SCIENCE & TECHNOLOGY (Melaka)
Foundation in Information Technology
6,000.00
6,800.00
5,100.00
3,400.00
ZERO to 2,600.00
Diploma in Information Technology
11,500.00
6,800.00
5,100.00
3,400.00
4,700.00 to 8,100.00
Bachelor of Computer Science (Hons) Artificial Intelligence
20,000.00
14,030.00
10,520.00
7,010.00
5970.00 to 12,990.00
Bachelor of Information Technology (Hons) Data Communications and Networking
20,000.00
14,030.00
10,520.00
7,010.00
5970.00 to 12,990.00
Bachelor of Information Technology (Hons) Business Intelligence and Analytics
20,000.00
14,030.00
10,520.00
7,010.00
5970.00 to 12,990.00
Bachelor of Information Technology (Hons) Security Technology
20,000.00
14,030.00
10,520.00
7,010.00
5970.00 to 12,990.00
Bachelor of Science (Hons) Bioinformatics
20,000.00
14,030.00
10,520.00
7,010.00
5970.00 to 12,990.00
FACULTY OF CREATIVE MULTIMEDIA (Cyberjaya)
Foundation in Creative Multimedia
6,000.00
6,800.00
5,100.00
3,400.00
ZERO to 2,600.00
Diploma in 3D Modelling & Animation
10,222.00
6,800.00
5,100.00
3,400.00
3,422.00 to 6,822.00
Diploma in DIgital Motion Graphic
10,222.00
6,800.00
5,100.00
3,400.00
3,422.00 to 6,822.00
Diploma in Creative Audio
11,500.00
6,800.00
5,100.00
3,400.00
4,700.00 to 8,100.00
Diploma in Creative Multimedia
11,500.00
6,800.00
5,100.00
3,400.00
4,700.00 to 8,100.00
Bachelor of Multimedia (Hons) Interface Design
20,000.00
13,600.00
10,200.00
6,800.00
6400.00 to 13,200.00
Bachelor of Multimedia (Hons) Virtual Reality
20,000.00
13,600.00
10,200.00
6,800.00
6400.00 to 13,200.00
Bachelor of Multimedia (Hons) Media Arts
20,000.00
13,600.00
10,200.00
6,800.00
6400.00 to 13,200.00
Bachelor of Multimedia (Hons) Animation
20,000.00
13,600.00
10,200.00
6,800.00
6400.00 to 13,200.00
Bachelor of Multimedia (Hons) Advertising Design
20,000.00
13,600.00
10,200.00
6,800.00
6400.00 to 13,200.00
Bachelor of Multimedia (Hons) Visual Effects
20,000.00
13,600.00
10,200.00
6,800.00
6400.00 to 13,200.00
FACULTY OF CINEMATIC ARTS (Cyberjaya)
Foundation in Cinematics Arts
6,000.00
6,800.00
5,100.00
3,400.00
ZERO to 2,600.00
Diploma in Cinematography
11,500.00
6,800.00
5,100.00
3,400.00
4,700.00 t0 8,100.00
Diploma in Digital Creative Producing
11,500.00
6,800.00
5,100.00
3,400.00
4,700.00 to 8,100.00
Bachelor of Cinematic Arts (Hons)
20,000.00
13,600.00
10,200.00
6,800.00
6400.00 to 13,200.00
FACULTY OF MANAGEMENT (Cyberjaya)
Foundation in Management
6,000.00
6,800.00
5,100.00
3,400.00
ZERO to 2,600.00
Diploma in Management
10,950.00
6,800.00
5,100.00
3,400.00
4,150.00 to 7,550.00
Diploma in Finance
10,950.00
6,800.00
5,100.00
3,400.00
4,150 to 7,550.00
Bachelor of Accounting (Hons)
17,500.00
13,600.00
10,200.00
6,800.00
3900.00 to 10,700.00
Bachelor of Financial Engineering (Hons)
16,046.00
13,600.00
10,200.00
6,800.00
2446.00 to 9246.00
Bachelor of Finance (Hons)
17,333.00
13,600.00
10,200.00
6,800.00
3733.00 to 10,533.00
Bachelor of Marketing (Hons)
17,333.00
13,600.00
10,200.00
6,800.00
3733.00 to 10,533.00
Bachelor of Business Management (Hons)
17,333.00
13,600.00
10,200.00
6,800.00
3733.00 to 10,533.00
Bachelor of Analytical Economics (Hons)
17,333.00
13,600.00
10,200.00
6,800.00
3733.00 to 10,533.00
Bachelor of Digital Enterprise Management (Hons)
17,333.00
13,600.00
10,200.00
6,800.00
3733.00 to 10,533.00
FACULTY OF BUSINESS (Melaka)
Foundation in Business
6,000.00
6,800.00
5,100.00
3,400.00
ZERO to 2,600.00
Diploma in Business Administration
10,950.00
6,800.00
5,100.00
3,400.00
4,150.00 to 7,550.00
Diploma in Digital Business
10,950.00
6,800.00
5,100.00
3,400.00
4,150.00 to 7,500.00
Diploma in Accounting
12,000.00
6,800.00
5,100.00
3,400.00
5,200.00 to 8,600.00
Bachelor of Accounting (Hons)
17,500.00
13,600.00
10,200.00
6,800.00
3900.00 to 10,700.00
Bachelor of Business Administration (Hons) Human Resource Management
17,333.00
13,600.00
10,200.00
6,800.00
3733.00 to 10,533.00
Bachelor of Business Administration (Hons) Banking and Finance
17,333.00
13,600.00
10,200.00
6,800.00
3733.00 to 10,533.00
Bachelor of Business Administration (Hons) Marketing Management
17,333.00
13,600.00
10,200.00
6,800.00
3733.00 to 10,533.00
Bachelor of Business Administration (Hons) International Business
17,333.00
13,600.00
10,200.00
6,800.00
3733.00 to 10,533.00
Bachelor of Business and Knowledge Management (Hons)
17,333.00
13,600.00
10,200.00
6,800.00
3733.00 to 10,533.00
FACULTY OF APPLIED COMMUNICATION (Cyberjaya)
Foundation in Communication
6,000.00
6,800.00
5,100.00
3,400.00
ZERO to 2,600.00
Diploma in Applied Communication
10,950.00
6,800.00
5,100.00
3,400.00
4,150 to 7,550.00
Bachelor of Communication (Strategic Communication) (Hons)
16,667.00
13,600.00
10,200.00
6,800.00
3067.00 to 9867.00
FACULTY OF LAW (Melaka) – ONLY IN JULY INTAKE
Foundation in Law
18,000.00
6,800.00
5,100.00
3,400.00
11,200.00 to 14,600.00
Bachelor of Law (Hons)
18,000.00
13,600.00
10,200.00
6,800.00
4400.00 to 11,200.00