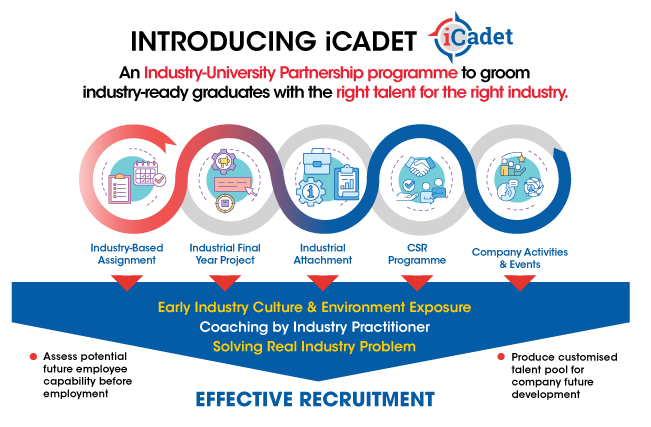 A simple illustrated summary of the iCadet Programme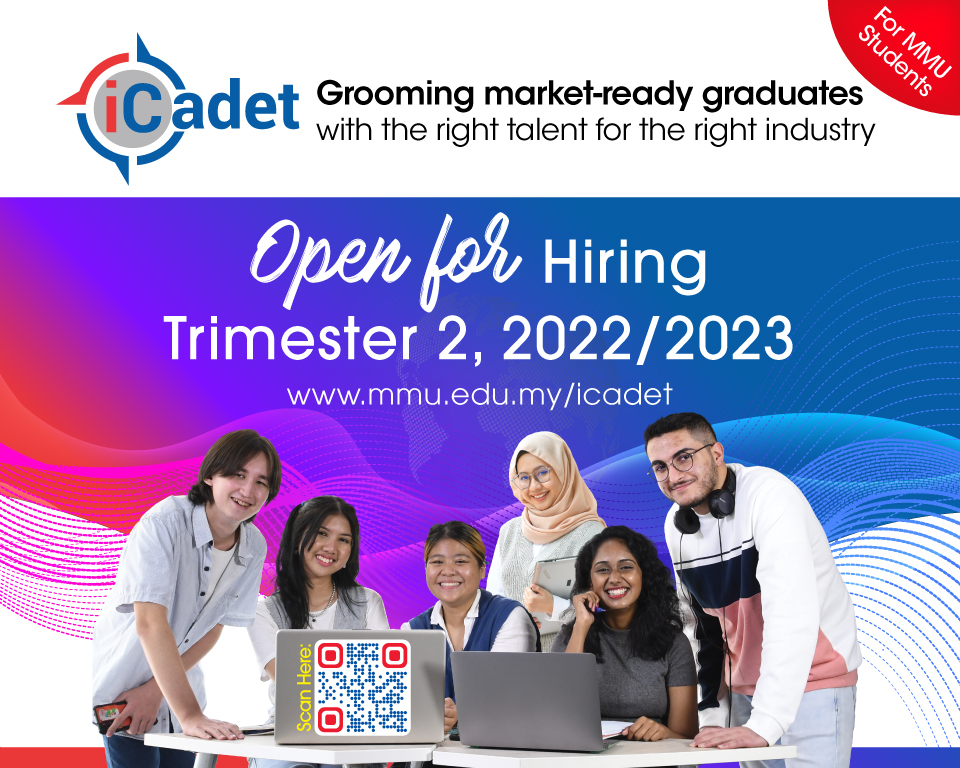 Introduction
The Industry Cadetship is a new initiative by Multimedia University (MMU) focusing on undergraduate students across all faculties. This programme aims to groom students into industry-ready graduates. The objective of the programme is to provide MMU students with early exposure to industry culture and environment, to better prepare them for working life. 
In this programme, students would be guided by industry practitioners as they attempt to solve problems that real companies face. This  programme would help produce specialized individuals needed for the development of the industrial partner. Industrial partners would have access to industry-ready graduates, pre-matched to their respective needs. In short, iCadet Programme aims to groom work-ready graduates.
iCadets will undergo several activities such as industrial attachment, industry-based assignments, industrial final year project (iFYP) etc. 
However, these iCadet activities may be customized, combining other beneficial activities that suit the respective iCadet Programme industrial partner.
Scope of activities under iCadet Programme
The iCadets would be exploring the following activities in iCadet Programme.
Execution Mechanism
The iCadet programme partner shall enter an MOU with MMU (if requested by company only) or to be invited by MMU for participating in the iCadet Programme.

Scopes and activities covering the entirety of all programmes, sub-programmes, and activities. Some flexibility on additional activities may be added.

The iCadet programme partner may decide on benefits to the students being recruited as iCadets.

MMU shall advertise the iCadet Programme to all its penultimate-year (the last second year) students.

Interview sessions would be conducted to enable iCadet programme partners to select and recruit iCadets. Generally, the number of recruits is based on the company's human resource plan and talent needs in various disciplines.

Once recruited, the iCadets will participate in activities outlined in the respective partner's iCadet programme MOU.

MMU and the iCadet Partner will issue a certificate of accomplishment to iCadet who completed the assigned activities successfully.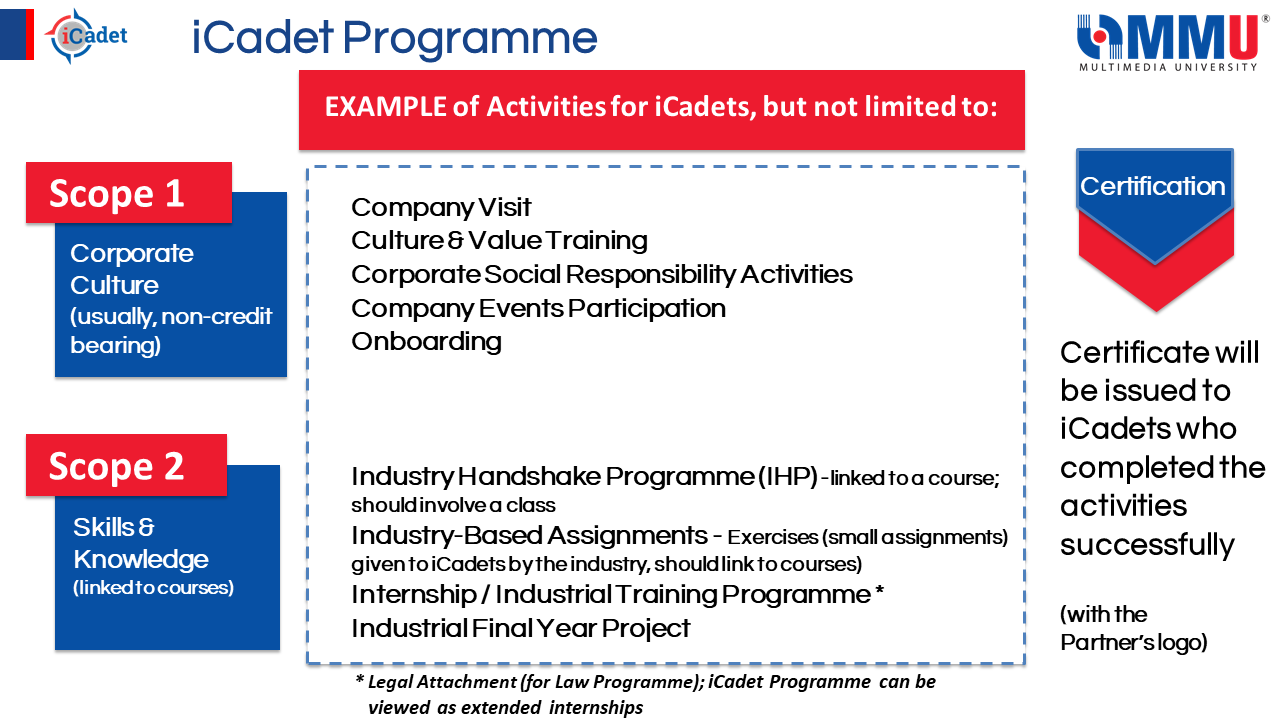 An overview of iCadet Programme: The example of activities of the scope 1 and the scope 2 are indicated. When iCadets completed the assigned activities successfully, a certificate of accomplishment will be awarded to them.
Interested to sign up as an iCadet Programme partner?
Please fill in this form:
MMU personnel will contact you soon.

iCadet Secretariat,
Government Liaison and Industry Engagement (GLIE),
Market Exploration, Engagement and Touchpoint (MEET).