Inbound Mobility Signature Programme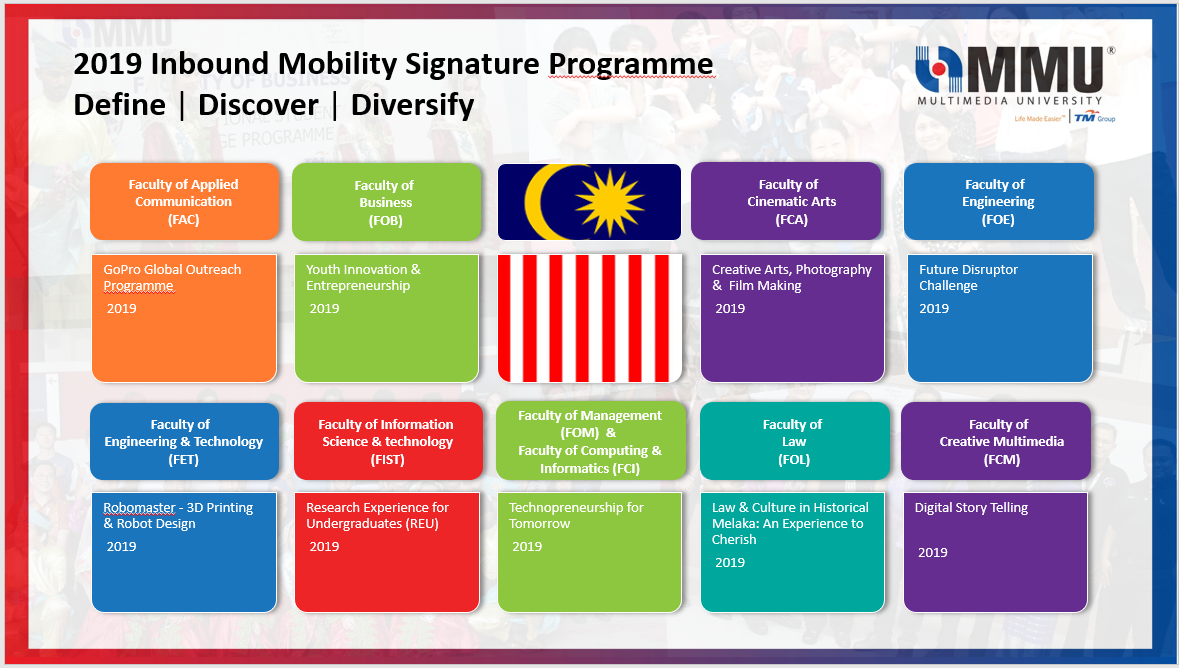 Go Pro with Faculty of Applied Communication

GOPro focuses on two weeks of Communicative English that is designed for those who use English as a second language. This interactive programme caters for all ability levels and helps participants become more proficient in English by immersing them in an English speaking environment for two weeks. The participants will engage in various activities including group discussions, presentations and role plays to enhance their core skills of speaking, reading, writing and listening. In addition, they can strengthen their teamwork as well as creative thinking skills while learning about Malaysian culture and participating in diverse cultural activities. This is offered by the Faculty of Applied Communication.

Youth Innovation & Entrepreneurship with Faculty of Business

The Cross – Cultural & Personal Development (CPD) Programme that is offered by the Faculty of Business, at MMU Melaka Campus is a 15-day exciting international student exchange mobility programme to unleash Malaysian local history and cultural heritage, with interactive activities to strengthen the intercultural relationship, with the accompanying motivation programme for innovation and entrepreneurship and essential skills to promote personal development.

Creative Arts, Photography and Film Making with Faculty of Cinematic Arts

The two weeks of creative arts photography and filmmaking exchange mobility programme will be centred around the exciting world of visual, performing and expressive arts. The emphasis of this programme will be a combination of creativity and interesting features in the filmmaking process. This is brought to you by the Faculty of Cinematic Arts, at MMU Johor Campus.

Future Disruptor Challenge with Faculty of Engineering

The Future Disruptor Challenge is designed as a two-week exchange mobility programme to inspire youths to be innovative and creative. The Faculty of Engineering at MMU, Cyberjaya campus welcomes participants to delve into 'disruptor' activities that can help in developing technical competency for both hardware and software, that would relate to daily life problems in the most disruptive way.

Robomaster -3D printing and Robot Design with Faculty of Engineering & Technology

The Faculty of Engineering & Technology at MMU Melaka Campus offers the two-week Robomaster exchange mobility programme that provides a platform for students to have experiential learning with the exchange of ideas through workshop on 3D modelling and printing, Arduino programming and applications, development of line-following robot, as well as robotics challenge competition. Industrial visit and site seeing in historical Melaka would be embedded during this programme.

Research Experience for Undergraduates (REU) with Faculty of Information Science & Technology

This two-week REU programme will fund highly-motivated undergraduate students to work with research centres at the Faculty of Information Science and Technology at MMU Melaka Campus to experience the challenging, cutting-edge, exciting, and transformative interdisciplinary research projects in the fields of Information Technology (Artificial Intelligence, Computer Networks, Security Technology, Business Intelligence & Analytics) and Life Science (Bioinformatics).

Technopreneurship for Tomorrow with Faculty of Management & Faculty of Computing & Informatics

The Faculty of Computing & Informatics and Faculty of Management at MMU Cyberjaya Campus offer the two-week joint exchange mobility programme for students who wish to experience of what it takes to be a competent technopreneur. You will be able to have hands-on experience to develop and sharpen your entrepreneurial skills, in readiness to face the challenges of tomorrow's world of business with the underpinning layer of technologies.

Law & Culture in Historical Melaka: An Experience to Cherish with Faculty of Law

The Faculty of Law at MMU Melaka Campus brings to you a two-week law and culture exchange mobility programme that offers a unique opportunity in experiencing the study of Malaysian law, Malaysian national and spoken languages of Bahasa Melayu and English in addition to experiencing Malaysian culture in Historical Melaka, where it all began.

Digital Story Telling with Faculty of Creative Multimedia

Media Art Exchange (MAX) is a 2-week exchange mobility programme that introduces students to digital storytelling and explores ways that students can use this technology and the art of storytelling for their creative expression. MAX emphasises the usage of digital media to produce expressive content and students will be able to participate in the multiple steps of designing, creating and presenting or disseminating their own digital stories. This is offered by the Faculty of Creative Multimedia at MMU Cyberjaya Campus.